Two different forms of ownership joined at the hip by confusion over what distinguishes them.
Timeshare has a pickled history and is often branded as a dirty word. This is an unfair reflection on the industry, however certain practitioners exploited investors in Ponzi schemes before running developments into the ground. Certain companies such as Marriott Vacations Worldwide Corporation, Interval Leisure Group and Wyndham Worldwide Corporation are legally and honestly making it a wise investment choice for buyers, hence the upwards trend: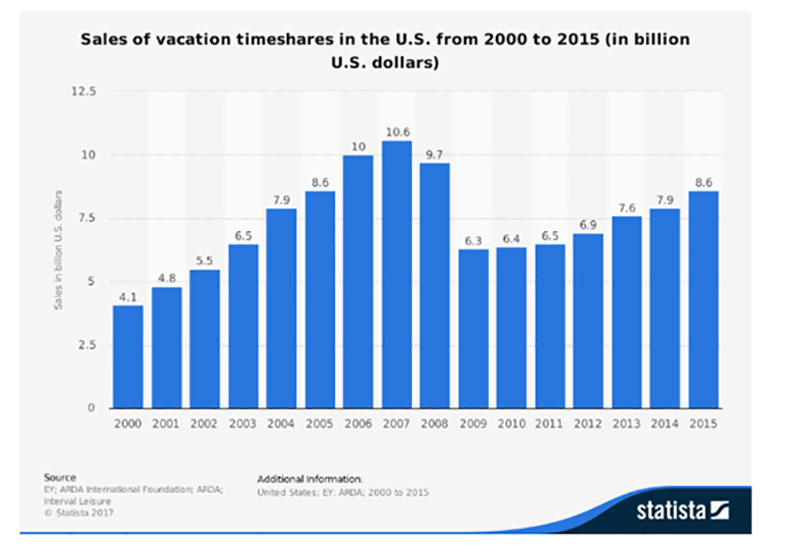 What are these forms of ownership?
Timeshare allows consumers to buy a specific amount of time to use a property each year. Typically, timeshares are sold in one-week batches, meaning there are 52 owners to each property each year.
Fractional ownership is a little different. Each property is typically broken down into thirteen fractions. From this, you can buy as many fractions as you like, and you then own whatever fraction of the property you purchased. Just like timeshare, you then have access to that property for a specific period per year (decided by how many fractions you buy).
Though both a form of property ownership, it is important to understand they are different.
In brief, how do they differ?
Fractional Ownership
You own a portion of actual property and land forever, or until you sell
You're free to do almost anything with your weeks, including renting them out to gain passive income
You're entitled to take yearly tax deductions according to your number of shares in the property
Transparency: You and your co-owners make all the decisions about the property and land
With fractional ownership, you're paying for a portion of a true real estate asset
Timeshare
You don't truly "own" anything. If the corporation decides to sell the property or end the timeshare contract, your timeshare evaporates
Your rights are restricted regarding the personal use or sub-leasing your allocated week
You can't take any tax deductions for your timeshare because you don't own anything
With timeshare, you're paying for time and use
You have no voting power as far as decisions about the property, its condition, repair, and maintenance
---
In More Detail
There are three primary distinctions:
Ownership: Timeshare investors do not own the property. Fractional investors do
Investment: Timeshare investors do not benefit from an appreciation in value of the property nor do they receive an investment return. Fractional investors are deedholders, if the property increases in value, the return on their investment increases in accordance
Cost: A timeshare developer sells every week of the year to timeshare investors to fund the development. Once built, the development has 52 timeshare investors locked in to come for their respective weeks year in year out. This means the developer cannot generate any further profits as the development is permanently at full occupancy. The only way for the developer to continue making a profit is through annual fees, decided at the discretion of the developer. Hence, it is the norm for developers to raise annual fees that investors are legally contracted into paying. Fractional investors are owners, this gives them decision-making power regarding property fees and hence eradicates scope for exploitation. This transparency means annual fees are typically much, much lower
---
So, now we have covered the distinctions – what are the costs/benefits?
Ownership:Timeshare investors have no title deeds. This means if anything happens to the development, their investment evaporates with it. Fractional owners are tied in so have both liability and a credible asset to add to their property portfolio. As a fractional owner, you own both the property and the time period you have allocated. If you wish to rent it out to generate passive income, you can, it's yours
Investment:If you don't own a property, you can't profit from a property. Timeshare investors and fractional owners alike will both incur annual fees to cover maintenance. However, fractional owners benefit from capital appreciation on their property. Whatever value the property increases by, the fractional owner benefits from
Cost:Both timeshare and fraction owners will have to pay annual fees to maintain their properties. Timeshare owners must front whatever cost they are given; fractional owners benefit from far more transparent and lower costs. As deed holders, you are entitled to know why and what costs are incurred
References
Real Estate Cowboy
Finn Law Group
Brandon Gaille