Limoges & Surrounding Areas
As many of us know France is well known for its soft cheeses, Luxury perfumes, unmatched wines, cars and more. France is made up of regions, La Nouvelle Aquitaine is situated in the south-West, what is it known for? and why you should visit the region which was up until recently known as the 'Limousine'?
The Pyrenees
The world-famous Pyrenees form a natural border between Spain and France in South-West Europe. The mountain range is largely unexplored and hides small villages in its valleys. Central Pyrenees in all its glory falls within the Nouvelle Aquitaine region of France.
"Exceptional places and extraordinary natural sites which will take your breath away. Whether you're on holiday or live all year round in Nouvelle-Aquitaine (Biarritz-Pays Basque, Atlantic Coast, Dordogne Valley, Bordeaux), keep your eyes wide open, look around, be amazed." - www.nouvelle-aquitaine-tourisme.com/en
Limoges and surrounding areas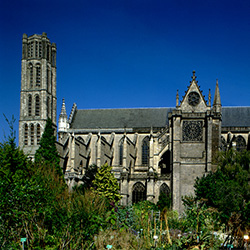 Limoges is a historic town in the Nouvelle Aquitaine, known globally for its Porcelaine. However, there is much more to discover in this area of the region. Its part in the resistance of WW2 resonates in the area, as well as the "Musée de la Résistance" in Limoges there also lies 23km away, the town of Oradour-sur-Glane. The wartime tragedy of Oradour inflicted by the SS brings visitors all year around to walk through the ruins and ghost town that will be forever remembered in France as "The Martyred Village".
Also not to be missed is the Cathedral' Saint -Etienne' de Limoges, began construction in all the way back in 1273 and did not finish until 1888. The Cathedral is so old that medieval paintings can be seen hanging on the walls of some of its chapels. The Roman Catholic Church was built in 3 architectural styles Gothic, Renaissance and Romanesque.
La Souterraine
A historic town, cobbled streets and underground crypts surround a fantastic church in the old French town of La Souterraine, set just 5 km from Wyndham Halcyon Golf and Spa Retreat. On the outskirts you will find the ruins of Castle "Bridiers" Wherein each summer a spectacle is held.
"From the end of the Prehistoric era to 1945, over 6,000 years of history at the Bridiers site are retold at a breathtaking pace: the migration of a tribe at the end of the Neanderthal period, the Roman occupation, the Bacchus festival, the Hospitaller commanderies, the saga of Philibert de Naillac, the marriage of Claudine de Brosse and Philip of Savoy, the exile of Prince Zizim, boarding the Hermione and the War of Independence in the United States, the retreat of Russia, the 1880s, the trenches in 1917, the summer of 36, exodus and resistance. So many tableaux that tell the story of Bridiers." - www.france-voyage.com/events/bridiers-historical-fresco-94.htm
Amongst the historic value, Limoges is also a family fun getaway for day trips and site seeing and shopping:
Maison du Lac de Saint-Paradoux
Situated just 37 km from the town of La Souterraine (5 minutes from Wyndham Halcyon Golf and Spa Retreat) Lac de Saint-Paradoux is a fun packed family resort with many activities including:
Swimming pool
Forest activity courses
Sailing
Water skiing (other water sports include canoeing, paddle boating)
Archery
Horse riding
Swingolf
Aquapark
Off- road biking
Climbing wall
Tennis
Fishing
Hiking
Beaches
Appointed Beaches (Plage de Santrop Plage de Chabannes, Plage de Freaudour)
*some activities are seasonal or require prior booking, please contact Maison du lac de Saint Paradoux for enquiries Tel.: 05 55 71 04 40.
L'Aquapolis
L'Aquapolis is a fantastic aqua centre located in Limoges, fun for all the family! Services include, aqua gym, aqua-fitness classes, sauna, hammam room, bike fitness, cardio fitness, Zumba, swimming lessons, a resturaunt and much more. See below the address and contact details if you wish to get more information.
www.vert-marine.info/aquapolis/piscine/
+33 5 87 19 31 67
359 rue Aristide Briand
87100 LIMOGES
France
Bellevue Parc
Bellevue Parc located in Limoges is a day out with friends or family for all ages. The parc activities include, Go-Karting, soft play, Ball pool, Trampolining, Mini-golf, Farm fun, water rides, bumper boats, pedal boats, rope bridges, tobogganing, Flying chairs and more!
The parc has a snack shack on site where you can buy an array of hot and cold food and drinks.
Contact details:
+33 5 55 48 03 62
Parc Bellevue, Bellegarde – 87100 Limoges
Porcelain museum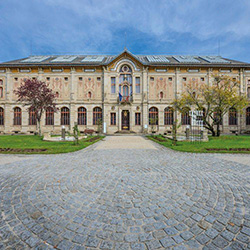 Limoges is home to the Musee National Adrien Dubouche, which hold the largest collection of Limoges porcelain in the world.
Address:
8 bis place Winston-Churchill Limoges
Phone:
+33 5 55 33 08 50
"The Museum is an undiscovered jewel, and I cannot say enough wonderful things about it. After discovering its marvels, my husband and I extended our stay in Limoges and made three additional visits to this museum. Need I say more?" – TripAdvisor1 May 2019
Aquarium du Limousin
The Limoges aquarium is a spectacular showcase of aquatic species, a must stop in Limoges.
The aquarium boasts a certificate of excellence on Tripadvisor along with fantastic reviews
Get in touch with the aquarium for any queries below:
2 boulevard Gambetta
87000 LIMOGES
Tél. 05 55 33 42 11
aquariumdulimousin.com
"This is amazing. We went to the aquarium because we had nothing to do and OMG this place is amazing. If you need to pass the time you MUST come here. There is amazing fish and turtles and it is small but awesome." - TripAdvisor review August 2019
Quartier de la Boucherie
Loved this part of the town. Spent a couple of hours wandering around here, just loved all the buildings and cafes. Definitely worth seeing." - TripAvisor review November 2019
This quaint medieval street in Limoges gets its name from the long line of butchers that worked and resided here through time.
"Picturesque with its timbered houses and narrow alleys, it is one of the oldest areas of Limoges still preserved to this day, and is one of the most touristic sectors. Among the main monuments, there is the Saint-Aurélien chapel and the traditional butcher's house. Rue de la Boucherie now houses restaurants, artisans and art galleries." - Wikipedia
Musee Beaux Arts
Limoges's museum of fine arts holds a variety of collections, from fine art to enamels and Egyptian art.
Fine art collections date all the way from the renaissance times to the 20th century.
"Allow at least 2 hours for the visit because it is big and there are so many gorgeous objects there that you just want to appreciate each of them individually. My favourite ones were porcelain tiles from the medieval times - OMG, so perfect! After a few hours I could hardly move my legs but I left the place very pleased and determined to come back." – TripAdvisor 2019
Aubusson
Aubusson has been given a UNESCO Cultural heritage designation for its craft in traditional tapestry. The town is located 1 hour from La Souterraine, it was rated high on the list of places to visit in the Limousin according to "PLANET AWARE" in 2019
www.planetware.com/tourist-attractions-/limousin-f-lim-lim.htm