A collection of stylish Studio, 1, 2 & 3 bedroom properties all furnished in a period style to complement the setting.
Also available are our most unique and magnificent Forest Villas, hidden in the woodland close to the chateau.
Be one with nature whilst enjoying all the comforts and modern amenities of a luxury home.
Freehold ownership property investments
No maintenance costs
Contractual rental returns for 11 years
4 weeks holiday use included each year with full ownership
Furniture included on all purchases
No obligation reservation period of 14 days
Assured resale options up to 150%
Low entry level and flexible options for investment
Fully managed resort partnered with a leading hotel brand
- ENDING SOON! -
Special Offer
5% ReturnsYear 1
6% ReturnsYear 2 to 6
8% ReturnsYears 7 to 11
125% assured resale after year 5
150% assured resale after year 10
20% TVA (VAT) cashback within 6 months
Viewing trips available
Experience the resort before you buy!
Wyndham Halcyon Retreat Golf and Spa Resort is a stunning development of luxury accommodation located in the stunning lake district of France with over 60 facilities/activities such as an 18-hole golf course, idyllic French spa, two fishing lakes, fine dining restaurant, a sommelier's wine and cocktail bar, sport and equestrian facilities - something for all the family.
Partnered with the largest hotel group in the world - 'Wyndham Hotel Group' - the resort is set to be one of the most sought-after destinations for the 5-star luxury holidays in Europe.
This stunning resort is set in 1,000,000 square meters of beautiful rolling countryside, ideally located less than 40 minutes' drive from Limoges international airport and just 10 minutes from la Souterraine train station with a direct link to Paris.
Thinking of buying a property in France?
Look no further. The Wyndham Halcyon Retreat Golf and Spa Resort is a premium family retreat set in the stunning Limousin region of France.
Imagine a place where the beauty of nature blends effortlessly with luxurious holiday living. Where families enjoy spacious homes in a French village setting with an outstanding range of facilities set across extensive beautiful grounds in the heart of the French Lake District of France. A Resort where five-star luxury walks hand in hand with family fun.
We are honoured to be the flagship resort in France for the Wyndham Hotel Group, the largest hotel company in the world.
Enjoy the benefit of yearly holidays in your amazing fully managed holiday home, with no ownership costs, fantastic returns and guaranteed exit options.
For more information enquire here »
Nouvelle-Aquitaine, Limousin, Limoges & Surrounding Areas Activities
Latest updates of development at Wyndham Halcyon Retreat Golf & Spa
Latest webinars about all aspects of Wyndham Halcyon Developments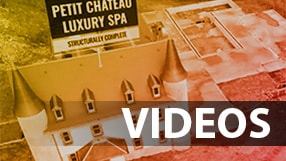 Latest videos of Wyndham Halcyon Retreat Golf & Spa Limousin, France